GRINDSTONE'S COOPER JR. BGH A. BGH 1 , "Cooper" (green boy)- Is enjoying life in the Austrian Mountains with his wonderful new family, Bert and Nina.
Cooper is doing great, he is a real pleasure for us and is enjoying life in the Austrian mountains, between cows, his dog-friends, Putzi the cat and us.
9-15-2011 10-04-2011
Hi Pam!

We hope everything is OK.
Cooper is growing and growing .... He's a smart guy and we've so much fun
with him.
A couple of days ago it was his first time in the snow, next to the ski-lift
close to our home.
Cooper and his best friend Monty (one month younger) had a lot of fun and
Albin and Nina were so proud ....

All the best from
Austria
11-21-12
Cooper- March 2012
May 2012-Cooper is doing GREAT!!!!! It's such a pleasure having and playing with him.
June 30, Cooper is having his obedience examination, together with his friend Monti. We're still grateful for such a nice guy and all you and your family did to raise him.
July 9, 2012- Nina & Cooper did the test with excellent results.
It was the first examination in long row (called Begleithunde / Verkehrsteil), which means: escort dog examination / public traffic test. Nina & Cooper, as well as Albin and Monty, are continuing training for the next step. Everybody is enjoying the pleasure in working with such beautiful dogs that are eager to learn!!!!
Holly (Blue Girl) is enjoying her new family in Illinois!
Attached are pictures of Holly and Hayden. They have been practicing retrieving with a bird. She seems to really like it. She is growing pretty well. She was 18 lbs at last visit. We go Tuesday for more shots. We have gone to dog obedience for two weeks and she is doing pretty well. She is younger than most of the dogs in the class. She is a little more hyper than they are but doesn't growl and bark at the other dogs like most of them do. 09-25-2011
As you know Holly is 6 months old yesterday and doing really well. I have attached a couple of photos for you so you can see how she is growing. She has been out to the farm with us. Hayden is really having a good time with her. She did really well with dog obedience. We have worked on things a little, but since the weather turned off so bad the last two or three days, we haven't been out practicing. She is growing and playing and just a joy for us. 11-29-2011
She is doing really well. She has been with us to our church property flying kites and loves to take walks with us. She is doing so good since dog obedience. We are really enjoying her. She loved going out in he field behind our house with Hayden this winter and just walking around and checking out all the different smells. She has been playing with our neighbor's lab and loves to chase him. He is older and she gives him a run for his money.
Thank you so much for sharing her with us. She is a joy!
May 27, 2012
She is doing really well. She has been with us to our church property flying kites and loves to take walks with us. She is doing so good since dog obedience. We are really enjoying her. She loved going out in he field behind our house with Hayden this winter and just walking around and checking out all the different smells. She has been playing with our neighbor's lab and loves to chase him. He is older and she gives him a run for his money.
I am sorry I haven't kept in touch. We are really enjoying having her as a part of our family. She was able to enjoy tree season at the farm with us and Hayden just loves his friend.
Thank you so much for sharing her with us. She is a joy!
Dec. 27th, 2012 Hayden and Holly Christmas morning with her new toy. Holly is doing great! She is a wonderful dog and member of our family. She is changing all the time. She loves to go walking especially with Hayden hunting around to see what she can find. She has really enjoyed the nice snow we have.
Scottie (Blue Boy) is happy to part of Doris's Golden family in Oklahoma!
Scottie 3-2012
Carmel Has gone home to be with her family in Tulsa Oklahoma!
Carmel has become so much a part of the family that the first thing out of everyone's mouth in the morning and after school is How is Carmel??
We just LOVE her! It seems like we are always laughing at something she is doing or in constant amazement at her energy level.

Yesterday, Paul and Sierra took her to her first obedience class. She got to play with Scotty and Trooper. Paul said they tried to take a picture of the 3, but hard to get them still. We have enjoyed getting to know Doris and look forward to Carmel and Scotty having some play dates. Carmel is obeying us very well when we tell her to sit, shake, and stay( this one is her hardest to do). 9-16-2011
Carmel is doing Great! She is definitely part of the family. Blaze and Sierra think the world of her and she is the last thing at night and first thing in the morning they are concerned about. We love Her! 01-07-12
1-26-13 First if all thanks you so much for letting us get Carmel! She's perfect!! She's so sweet loving and a really fast runner!!
Trooper (Purple boy )is now home in Oklahoma with his owner Cydnee!
Thankful for your great Ace/Millie breeding. We are the owners of the smartest pups in world! He makes us happy and proud every day! Such a quick study, he is. Trooper thanks you too, for permission to have turkey today!! 11-24-11
We are having such fun with him. I am amazed how quick he learns. It seems we show him, practice a few times and he has it down! We are soon to start Beginners. I think it will be a breeze for him as he is doing so well on stays, sits, downs. He loves "hide it-find it" and will stay while we leave the room to hide treat and return to release him. Sorry I haven't been a very good updater! Will try to improve on that! Hope everything is well with you, Cyd
01-08-11
Gindstones Shakem up Riverdance BN, CDX, RA, TD "Josi", (Pink Girl)
11-12-2011
Josi is looking more like her Dad ever day. She's doing great in her agility class. She will do short sequence - tunnel, jump (like 3"), to target on the table. Did the whole dog walk and low A frame last week. 12-15-11
Here is Josi out Tracking! Jan. 17,2011
07-15-12 Josi received 3rd place in Novice B at an obedience trial! She has amazing attention and really loves to work!
1-26-13 Terri and Josi received her CD and RN this weekend. She received 1st place in Novice B with a score of 196!
Hi Pam,
Just thought I would tell you a bit more about Josi and the trial. She is such a joy to take! So easy to deal with. Just quiet in her crate and ready to go when she comes out. Besides the titles, ribbons and nice scores a wonderful part of showing her is the comments from friends and exhibitors. People notice her and take time to comment to me what a good job she?s doing. Many are surprised that she?s not even 2 yet. She makes me VERY proud!! She is the best working dog I?ve ever shown. My goal will be to keep her wonderful attitude towards obedience long into the future and we will have some wonderful times together. Thank you for picking her for me! You had it right! Now on to open, agility and tracking . . .
Terri
Jax (Yellow Boy) is enjoying his new home in Louisianna with his Owner Patty.
Jax and Patty were on TV!
Go to http://myarklamiss.com/
click on COMMUNITY
click on HEATHER PARKER'S PET PROJECT
click on #23
He's very handsome! He's really good in the house, also. He doesn't even tear up his toys. 10-04-11
Jax graduated from puppy kindergarten. It helps if your mom is the instructor. He looks so serious in this pic. That lasted for a second. He's a sweetie!! 11-13-11
Jax 04-2012
August 27,2014.

Jax doing his stay exercise in Beginner Novice Obedience.
Grindstone Salt Creek Tiger Boy SH (Pink Boy) Belongs to Chris and Elbert Lehmann from Nebraska.
Tiger- March 2012 (9mos old) Making great progress in his field training up in Nebraska! Fast and very birdy!!
His obedience is coming along nicely, He's a smart pup that picks up quickly on commands. 9-12-2011
His obedience is coming along just fine. He will be going to Brads next weekend (not this one, the following one) that'll give his Dad time to get used to the idea. :> Tiger should be ready for senior level next year, at least that's what we'll be working on. 01-05-12
05-12 Tiger received his first JH leg!
10-14-13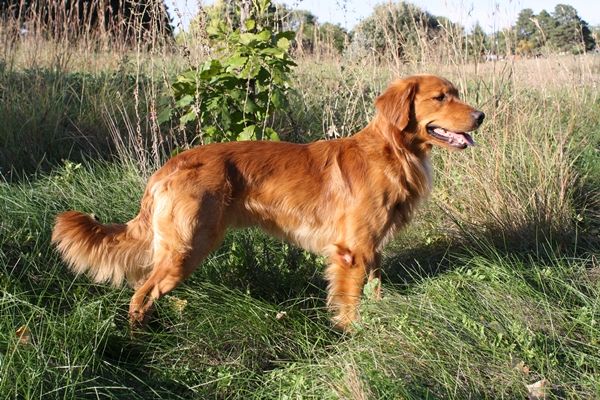 Tide (Orange Girl) is living it up on the coast of Maryland with her new owners Jessica and Mike!
Tide is doing great, really starting to grow! She loves the water and beach is moving into her chase me/idon't want to listen stage! She should be leaving for training for 4 months : ( in October. We are sad and excited at the same time. 9-15-11
Just an update on Tide....She started her Obedience class and is doing well... We know sit, down, paw, speak and recall (most of the time). She is also working with her bumper in the marsh and it's amazing to watch her work and how smart she is! 10-07-11
Tide is doing great! I'm hoping to get her in her formal training by the end of Jan. She still loves the water and is exceptional at learning new things...she is still having her puppy moments from now and then but thats to be expected. She def has a lot of energy and is very fast i'm thinking she would probably excell in the show ring as a rally dog !!! Dec. 31, 2011
Quincy (Orange Boy) is enjoying his sweet life as a lake resort dog at Table Rock lake in Missouri with his new family.
He loves to chase the squirrels and chipmunks. Gets his nose in holes and digs. The kids are doing great with him, and he's great with them also. We can't wait for this summer to see how he does off the dock with swimming and jumping. He's a great dog! We love him a lot!!! 12-24-11
How Great Quincy is! We love home so much. Just the other day Bob said how he has taken to him and stays to him like a magnet. He is a leader. He loves to work. He runs in of the golf cart as we do our chores. Chases all the geese and squirrels. He is very fast. Bob races him on the golf cart and then tryst to trick him to which way he goes. Quincy never takes the easy way always goes under something or over it and along the rock wall. Never just straight down the road. It is so much fun to watch him. Bob is working with him cashing the other dogs off the property. He gets to excited and wants to play.
He weighs about 55 pound. He is light BUT VERY LEAN! He runs all morning then naps and runs some more than naps and then again runs and swims also. He is getting allot of exercise.
WE would love for you and your family to come down and visit to see how much he loves it here and what a great job you have done as his breeder. Mary 08-19-12
Video of Josi and Terri training for her Novice B obedience trial. August 2012.